Overview / Summary
This document is a summary of metacognition that can be provided to new staff to help them understand what metacognition is.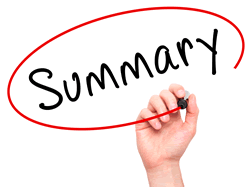 Tree of metacognition
This diagram and A3 document provides an overview of the main components of metacognition.
Jigsaw
What, at a very practical level, can teachers do to help pupils develop metacognition?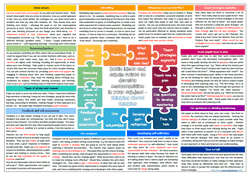 This document breaks down metacognition into a number of components enabling teachers to see how they can help pupils become more effective in their subject. Click here to download
Questions
What questions should leaders ask middle leaders? Use this resources to help you structure supportive and challenging conversations. Help middle leaders to drive developments within their subjects.
Separate or combined?
Are metacognition 'lessons' effective? Can you teach metacognition separately or does it need to be entwined with subject delivery and taught by everyone?
Click here for a discussion of the pros and cons of different delivery models.
Case studies
A range of fantastic case studies are available, with more being added over the next few months, to support leaders and teachers with practical ways of using metacognition to support learning.
Post 16
Presentation and questions for post-16 leaders.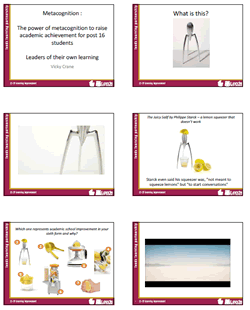 Click here to download presentation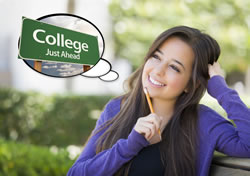 Click here to download questions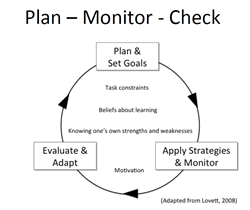 6 Key Areas
In Leeds, to support the development, schools have been focusing on six elements:
Modelling the thinking process and using 'Think alouds'. Teacher reveal their thought processes as they model completing a task.
Thinking diagrams and strategies to promote thinking. E.g. The '8 thinking maps' created by David Hyerle as a vehicle for encouraging greater depth of thought and making pupil thinking visible.
Planning a task (Plan - Monitor - Check). Developing an internal dialogue and self-questioning.
Developing the skills of reflection.
Opportunities to test out and evaluate 'strategies', e.g. strategies for note taking, strategies for revising, strategies for exam preparation.
Being 'agents of their own thinking' by seeing they can grow and develop as a learner. Having a growth mindset and believing in personal development.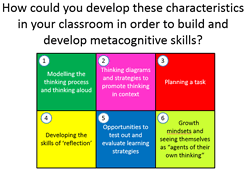 Matrix
This matrix is designed to help middle leaders plan a course of action and evaluate their current position in developing metacognition within their subject.
Measuring metacognition
It is not easy to measure metacognition, but you may find the following resources useful:
For older pupils, the Metacognitive Awareness Inventory
Listening questionnaire and without categories listening questionnaire