"It's not the reality that shapes us, but the lens that shapes the reality." Shawn Achor. If we can change the lens with which some children look at themselves as learners and learning, we can change their capacity for achievement. Possibilities can become realities.
Helping pupils to develop a growth mindset can be the key that unlocks the door for many pupils. However, the larger the school, the more difficult it is to implement growth mindset research in a way that has lasting impact on pupil performance. Like any school wide policy, staff understanding and staff application of the policy will make a difference to the impact it has. If you slice through the stick of rock, it must say 'growth mindsets' all the way through. When the research is implemented in this way, growth mindset improves progress and attainment in all year groups. It is only achieved through hard work and the belief by the adults (and pupils) that attitudes and mindset do make a difference to pupil outcomes and that all pupils can improve, grow and develop. Their intelligence and capabilities are the starting point, and are not set in stone.

Pupils with a fixed mindset believe that intelligence is fixed and cannot be changed. For example, they see themselves as either 'good at maths' or 'not good at maths' and this is not something they have any control over, they were just born that way. If you are good at school it comes naturally, rather than being a product of hard work. Both high and low ability pupils may display a fixed mindset. For example, higher ability pupils might be more reluctant to challenge themselves, fearful of not being successful. You might also find higher ability pupils more fixed in their ways, reluctant to try new strategies in case they fail. They are often the pupils who want to get 10/10 and everything right with no corrections. Pupils with a fixed mindset often give up easily when faced with challenges. They don't tend to like feedback and see it more as a criticism. Negative feedback would tend to have a demotivating effect. They often believe that you should not have to try or work hard, and if you do, it's because you are not very good at the task/subject. For lower ability pupils, who may experience very limited successes, they believe they will always perform in this way. They do not see that being an effective learner is something you can learn how to do and get better at!

Whereas, growth mindset pupils tend to love challenge, thrive on feedback, are always looking for ways to improve, are very reflective and more resilient. This is because they believe that intelligence is not fixed and that they can improve their knowledge, skills and understanding. They believe that results come from hard work. They know they will make mistakes and sometimes fail, but that this is an important part of the learning journey. They know there are choices and variables they can alter and control. They are more likely to believe that their effectiveness and efficiency as a learner can be improved. We want more growth mindset pupils!
Some pupils have little in the way of 'locus of control'. They feel like they are in a sea, bobbing about, bashed about by waves and taken wherever the sea takes them. Whereas other pupils believe they are 'steering the ship'. There might be rough seas, rocks and obstacles to navigate, but they have choices. Disadvantaged pupils often feel they have no 'locus of control' and it is something more associated with a fixed mindset perspectives. We can help pupils by giving them choices and encouraging them to plot their own course.
For example, teachers can help pupils plan their own learning. In one particular Year 11 class the teacher has worked hard to provide opportunities for the pupils to map out the long term plan for a half term. With practice, they are now able to do this without much input from the teacher. Giving such influence over learning promotes an ethos of not knowing being ok, gives pupils more ownership, is more motivating and helps pupils to see how you can respond when you can't do something (yet). This is an example of how the ethos of a classroom works in unison with a 'growth mindset' approach to learning.

How could you ensure a growth mindset culture in your classroom? How could you help pupils to see that they are able to grow and develop as learners?

The most effective way to create a growth mindset culture and to change the mindset of pupils is to start at a whole school level. All staff and pupils, not just teachers, need to understand the difference between fixed and growth mindsets. Pupils need to understand and be able to use the terms 'growth' and 'fixed' mindsets. Identifying their dominant mindset, and spotting when they lapse into a 'fixed mindset moment', is an integral part of utilising the research. Developing a common language and actually teaching children about fixed and growth mindsets is the first step towards change. This can be through class activities, assemblies, and special event days. Schools that have a carefully planned 'launch' tend to be more successful in using growth mindset research and tend see more impact on pupil outcomes.
Throughout the year, school can use a variety of angles to explore fixed and growth mindset characteristics. For example, learning about famous people who have succeeded after many set backs and failures, examining role models who display characteristics of a growth mindset (such as resilience, perseverance, dealing with setbacks, thriving on challenge, aspirations, and learning from mistakes), developing positivity (such as changing language from negative to positive, motivational songs, journalling, and creating gratitude jars). Many schools include learning about the brain and memory as part of the work they do on helping pupils to recognise how everyone can improve. Some schools have an activity that is new to pupils (such as juggling, playing ukulele) as a mechanism for highlighting and teaching growth mindset characteristics.
It is also important to consider the reward system used in school and if this reinforces a growth or fixed mind set approach. You can teach children about fixed and growth mindset, but if this is at odds with school culture and policies it is unlikely to have much impact. This is best examined at whole school level, ensuring the same message is given by all staff, otherwise the reward system can lose its authenticity. For example, the language used in reports, celebration events, target setting.

Having said all that, there are plenty of actions you can take in the classroom to encourage pupils to have a growth mindset.

What strategies can you use to develop growth mindsets? Ideas you might like to try:

Whole school / department or year group:
Learn all you can about growth and fixed mindsets, especially read Carol Dweck's book.
Ensure all colleagues understand the growth and fixed mindset model.
Create a vision of developing a 'growth mindset culture' and the characteristics you value. Share this with pupils.
Support colleagues in developing growth mindset attitudes and classrooms provide training, conduct action research, try out new ways of working, have mindset workshops, observe each other with a focus on mindset development.
Review use of praise and feedback.
Reinforce examples of where success has been achieved through hard work and perseverance in your rewards system, in school displays of work, in sharing and valuing improvement as a class.
Ensure there is a wealth of opportunity for pupils to take on new challenges in the curriculum.
Have whole school displays which celebrate perseverance.
Hold assemblies, e.g. on overcoming obstacles, examples of when famous people have triumphed after setbacks, stories which illustrate a 'growth mindset'.
Ensure parents understand the growth mindset approach.
Developing a growth mindset classroom
Be a role model of a growth mindset approach. Look for examples within your everyday teaching which can be used to highlight growth mindset characteristics. Share with pupils when you lapse into a 'fixed mindset' and what you do to get back into a 'growth mindset'.
Teach children explicitly about how the brain develops and how they are in the driving seat of their learning and development.
Use books and opportunities that are already in the curriculum to look at characters / real people / situations in which having a growth mindset has proved positive or led to a successful outcome.
Make sure all children know a range of strategies they can use before they have to seek assistance from the teacher. Strategies for getting 'unstuck' - what can they do to help themselves?
Ensure tasks are sufficiently challenging for pupils and well matched to ability in order to provide stretch. Being challenged helps pupils to build resilience, determination and perseverance.
Ensure pupils understand the importance of challenge as part of learning. Ensure that there is plenty of classroom talk and discussion regarding challenge. Introduce tools that aid discussion about challenge such as 'the learning pit', 'the learning mountain', RAG analysis, confidence scales.
Teach the 5 Rs for learning (ALPS) resilience, responsibility, resourcefulness, reasoning and reflectivity.
Get pupils to create posters of themselves, celebrating how they have shown one of the 5 Rs of learning in your subject.
Provide opportunities and develop strategies and techniques which can be applied for problem solving, mind mapping, action planning, etc
Provide opportunities to promote positive psychology. See Shawn Achor on TED talks.
Using and developing feedback and praise, including time for reflection
Ensure praise and feedback reinforces growth mindsets.
Ensure pupils regularly review and carry out post analysis of work. Make sure they improve work in light of feedback and review.
Develop self-assessment and peer assessment techniques.
Use plenty of modelling and critique lessons so that pupils understand how marking and feedback are an important part of learning.
Use displays to show first drafts / second drafts / final pieces. Celebrate the improvements that have been made.
Provide lots of opportunity for self and peer assessment and promote the value of review.
Ensure there is time for pupils to reflect on effort, strategies used, processes employed, persistence in the face of difficulties, techniques they have used when stuck in order to move forward, how and why they have learnt something, how and why they have improved, choices and decisions they have made, etc.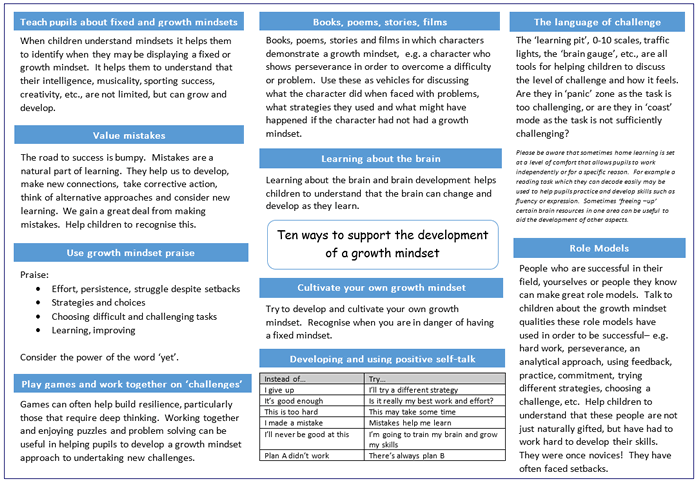 When is having aspiration not enough?
Pupils need to believe they can grow, develop and improve in all aspects of their lives. Having a growth mindset, and being aware of their mindset, is hugely beneficial for pupils. Whilst having the desire to improve, resilience, an evaluative approach, being determined and committed, learning from failures and being prepared to step out of their comfort zone are all elements we would associate with successful pupils, for some being told to 'try harder' is simply not enough. The aspiration is there, but there is a gap between what they want to achieve and having the tools to actually achieve it. We need to add a huge dollop of metacognition to the growth mindset, helping pupils to expand their knowledge and application of 'strategies', helping students develop a sophisticated internal metacognitive dialogue that they engage in before/during/after tasks, helping students build the skills necessary to decipher and analyse task requirements, helping them to understand processes (such as steps in problem solving), help students monitor their own learning and understand how to get 'unstuck', etc.
Martin N. Ganz and Barbara C. Ganz, Linking metacognition to classroom success, The High School Journal, University of North Carolina Press, 1990.
"Many students have the goal of improving a grade at some point in their education. Fulfilling that goal can become a source of serious frustration. There are several causes for the lack of academic success many students experience, including immature metacognitive knowledge and strategies as well as the lack of motivation, attention, and effort to employ strategic activity. Failing to think about the the steps required to achieve that goal may also be included here. Students often realise that they do not understand what was read or heard, but then fail to act on this understanding. This practice can reinforce an existing negative view of their ability or lead them to believe they are poor learners. A more precise explanation would be that they are too passive in their learning attempts. They do not practice self-control and self-correction necessary to become better learners."
Focusing on positivity:
A positive state is proven to increase creativity, resilience, intelligence, energy levels and leads to increased productivity, accuracy, speed. As a result outcomes rise compared to negative, neutral or stressed states. One reason for this is that dopamine, which floods the system when positive, and makes you fell happier also turns on all the learning functions in the brain which in turn makes you more adaptable. See Shawn Achor on Ted Talks.


Links
Read the book by Carol Dweck. http://mindsetonline.com/whatisit/about/index.html

Like to share?
Why not send us your resources.